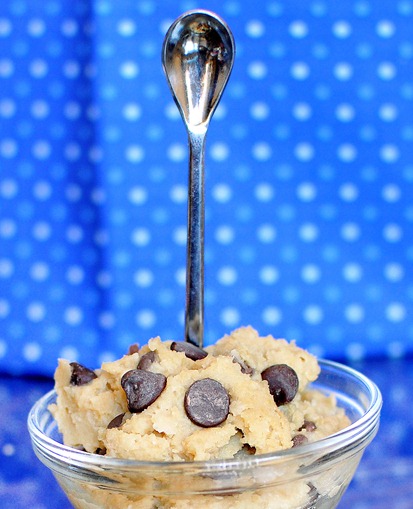 It is my delight to introduce you to
Chocolate Covered Katie
and her
(No Sugar) Cookie Dough Dip
! If you have never been to Katie's website, it is a must see. Seriously.
And if you are watching what you eat or a lover of cookie dough - this is going to be your new favorite recipe.
(For those of you who haven't looked at the recipe yet, the secret ingredient is chickpeas!)
Opinion:
I'm not usually one of those people who eats cookie dough, but I am sold on this stuff! It was fast to throw together and terrifically good for you (my husband says I can't call things "horrifically good for you" any more because it doesn't make sense - lol). One batch for four very filling servings and as an added bonus it was cheap to make. Definitely a keeper!
My Modifications:
I added a smidge extra peanut butter to mine and subbed honey for the dates because I didn't have enough on hand. I also skipped the oats.
Tip:
Rinse the chickpeas really well when you take them out of the can.
You should be able to use a blender instead of a food processor without a problem; you might just have to go a little longer or add a splash of milk to even out the consistency.
Dietary Mod Friendly?
This recipe was specifically written to use only natural fruit sugar, so it's already ahead of the game. If you skip the optional oats, there's no gluten. Judging by the comments on the original page, you can also sub any nut butter or an alternative form of fat (think coconut oil) if the peanut butter is a problem. So high marks for mod friendliness - go try it!