Thoughts of transitioning to natural, non-toxic personal care products have been often on my mind in recent months. Initially, it stemmed from reading about the debut of Mary Kay's latest skin care line. Although it took the company years to roll it out, neither consultants nor customers were happy when it arrived. They'd long been asking for something
natural
. Something completely free of questionable ingredients that would fit the rest of their healthy lifestyle choices. What they got was nothing of the sort.
It was enough to spark my curiosity - I blame the business major in me. Was this another case of bad management through obliviousness and arrogance? Could it really be that complicated to create quality personal care products at a reasonable cost? Surely with the centuries that people had been self-reliant before mega-industry took over production of every category of goods there had to have been simple, reliable recipes using safe and basic ingredients that could serve as models!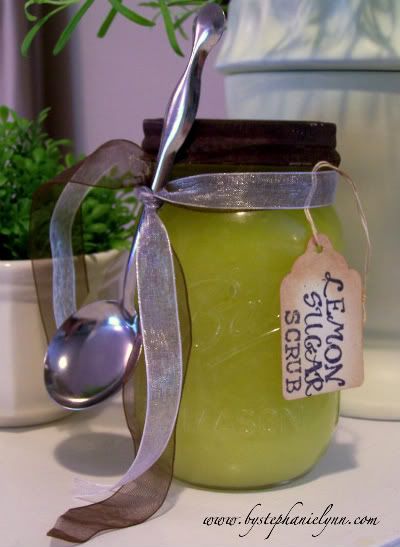 As it turns out, the interwebs are ablaze with creative and smart women who asked exactly that same question - and answered with a plethora of simple, healthy and fantastic products that fit the bill. I've been quite pleased with what I've discovered so far, and want to share one of my finds:
Lemon Sugar Hand Scrub
from
Under the Table and Dreaming
. It's simple, completely safe and natural, and (happily) cheap to make! It can be easily customized to a different scent if you'd like, as well.
I look forward to sharing what I learn as I continue to slowly transition our home off of as many toxic commercial products to homemade, customized, healthy options wherever I can.
(If you're a Pinterest fan, get a sneak peak at what's on my to-be-experimented-with list by following my
Holistic Beauty
board!)